View the web design here: www.meraki-holistics.co.uk
Based in Newark, Nottinghamshire, Catherine Musgrove began her acupuncture adventure in 2009, after studying traditional Chinese acupuncture for three years at the University of Lincoln and achieving a very well-deserved Acupuncture BSc (Hons) degree.
Currently working as a licensed acupuncturist and reflexologist, she is located at Matthew Williams Podiatry & Therapies in Newark, in addition to carrying out home visits for her clients in their own comfortable surroundings.
Extremely experienced in her field, Catherine came to us looking for a rebrand for her acupuncture and reflexology business – searching for a vibe and brand personality that would connect with her audience on a deeper level.
What's in a name?
Previously known as "Catherine Musgrove Acupuncture" the first step of the rebrand consisted of trading the simple signature to "Meraki Holistics"; an all-inclusive name that encompasses both her acupuncture and reflexology services under one holistic therapy brand. This comprehensive brand name opens new doors for the business, leading the way for the addition of a broader service offering in the future.
When we helped choose the new company name, Catherine was desperately keen for a name that emphasised her spirituality, passion, and dedication for her art. Thus, Meraki Holistics was formed! The word "Meraki" (may-rah-kee) is a word used by the modern Greeks, which relates to doing something with soul, creativity, or love – putting "something of yourself" into what you're doing. A perfectly chosen name, don't you agree?
Colour, meaning & symbolism
Colour is an essential part of branding, as it forms first impressions and produces that critical identity for the company, conveying emotions, feelings and experiences. For Meraki Holistics, we created a fresh new colour palette to portray the personality of Catherine and her business more accurately.
Peach is associated with the expression of innocence, health and a sense of nurturing, signifying a feeling of friendship and care. Furthermore, it is a fantastic colour for communication and influencing feelings of calm. The relaxing colour offers a high degree of positivity, perfect for rejuvenating us in the most challenging of moments.
To complete the colour palette, we complemented the prominent peach shade with an intense shade of grey, jet grey, seashell and pure white, representing neutrality, warmth and balance.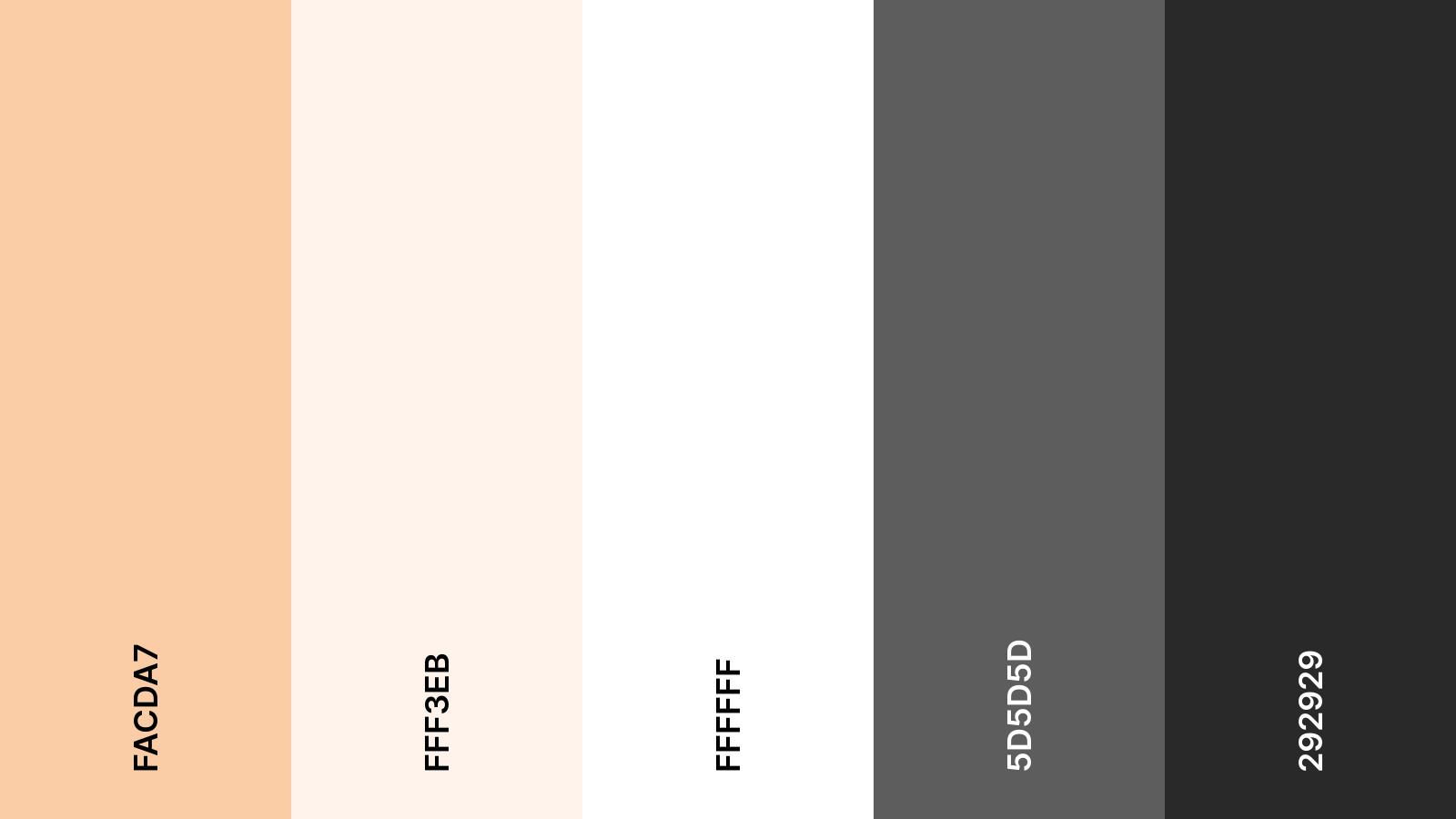 Developing the website
Catherine previously didn't have her own website but was instead featured on the Matthew Williams Podiatry & Therapies website. To help build her client base, both at Matthew Williams and her home visits, we developed her own professional digital space. This provides her with the opportunity to exhibit her talent & passion and spread her wholesome brand message!
Creating a flexible and comprehensive branded WordPress website, we embodied a consistent holistic and spiritual messaging, creating a pertinent brand tone of voice which worked alongside the soothing colour palette and zen imagery to emphasise Catherine's working approach.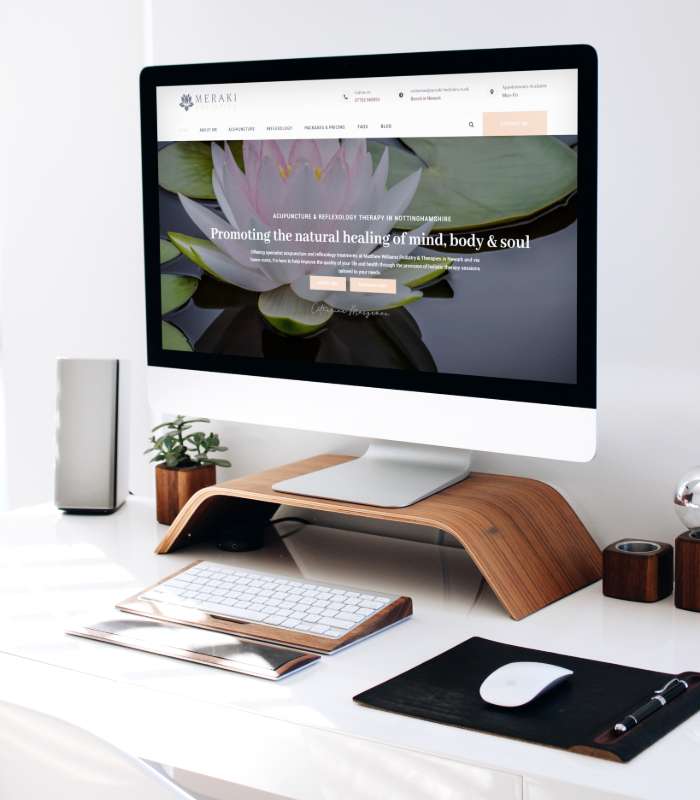 We also conducted a personal photoshoot with Catherine down a local leafy path in the British sunshine to provide a face to the name, with imagery being featured on her Home and About Pages.
In addition, we developed a thorough explanation of acupuncture and reflexology services, details of packages, pricing, and extensive FAQs, helping the business succinctly and appropriately respond to popular questions that clients have.
Adding an informative blog
Last but not least, to kickstart the website and Meraki Holistics blog, we created three pieces of content on relevant topics:
Acupuncture Point: Stomach 36
What is Yin-Yang?
What is Qi and What Does it Do?
All of which offer clients an insight into the world of acupuncture; delving into the art of maintaining the body's equilibrium by focusing on all aspects of wellbeing.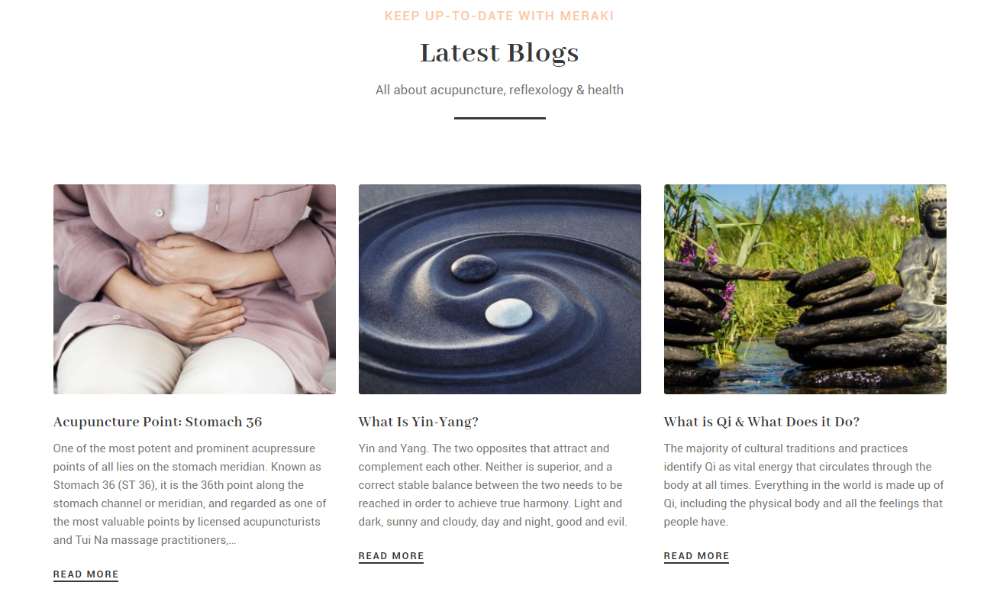 Drum roll please…
Want to check out the new website? Follow the link here…
---
If you are impressed with our work on the Meraki Holistics rebrand and would like something similar, contact us today! We love doing full rebrands and will ensure that your business has all aspects covered with a matching website and eye-catching, relevant and on-point branding.